Buy Crushed Kratom Leaf American Grown
All the the crushed kratom leaf is grown in the United States of America and is had picked for perfection. All of the leaf that is harvested is free of pests and are grown in natural conditions. We pick the leaf fresh each season, and sun dry in batches.
Crushed Kratom Leaf American Grown
Crushed Kratom Leaf – All the the crushed kratom leaf is grown in the United States of America and is had picked for perfection. All of the leaf that is harvested is free of pests and are grown in natural conditions. We pick the leaf fresh each season, and sun dry in batches.

Winter Leaf or Summer Leaf?
We pick the most mature and oldest leaf thought the year. But with seasons come different alkaloid profiles. Winter leaf tends to be stronger then summer leaf. This is due to the prolonged stress of harder conditions. The drops in temperature and lack of sunlight stress the trees and forces them to produce higher levels of alkaloids in the leaf.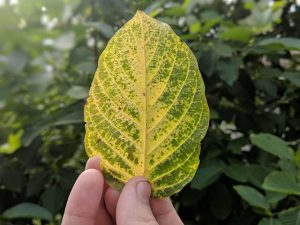 Brewing strong kratom tea with crushed kratom leaf
Step 1: Prepare your pot and water. Bring a pot of water simmering boil.
Step 2: Once your pot is at a simmering boil add your fresh leaf to the pot.
Step 3: Add 4 table spoons of lemon juice
Step 4: Boil your leaf for 35 minutes.
Step 5: Enjoy 🙂
But wait! Do not throw out the leaf yet! You can reuse that leaf to make another pot or two.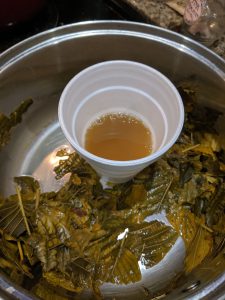 Other Recipe's
https://kratomwatchdog.com/topic/4378/drink-from-the-tea-cup-all-shall-be-revealed
https://kratomwatchdog.com/topic/2917/received-my-first-order-and-just-wanted-to-say
The mystery of kratom leaf vein colors

The color of a Tea vein are determined by the content of alkaloids in the vein. The purpose of producing alkaloids is to protect the tree from insects and animals from eating the leaf. Its also a stress mechanism. The alkaloids is why the leaf is so bitter and correlates to strength. Strength also correlates to how mature the leaf is. The more mature the leaf the stronger it will be. When mature leaves mature the alkaloids are sucked back into the tree thru the veins. These leaves will look more yellow.
The more alkaloids in the vein. The more red the vein will be. Purple at the high end of alkaloids. White at the low end of alkaloids. It is possible to see all vein colors grow at the same time on the same tree. (pink, red, purple) more near the bottom as that is where they have roots as that's where most of the nutrients are. Up the tree will be more (greens and whites). They start getting more color variation the larger they get.
In winter you see mostly white and green with some red. In spring mostly green, white, some red, with pink starting to show up. In summer, Seed pod are popping up, you see green, white, pink, red, purple. This continues to happens thru Fall. Should note seed pods are best to pick off the tree in Jan – April. Tea Vein colors usually have its darkest vein color at the exterior of the plant. Getting lighter as you go inward. But is harder to see in summer – fall as all colors are on the tree.
Help support American Kratom! And free kratom keychain. 
Where does the money from your order go to?
We are a small self funded American Kratom nursery. Our team does not take payment for our work. Everything we make goes back into the nursery, Documenting kratom, Our kratom social media platform Kratom Watchdog, Our kratom avatar chat Kynto, and our other kratom advocacy projects.'
What happens if there is an issue with you order?
We guarantee to get to your leaf to your door healthy and green. But, sometimes things can happen. If there is ever an issue with your order please contact our team immediately. We ask that you email us at kozykratom@gmail.com or call /text us at (603)733-4665. Texting is preferred. It is helpful if you also include a photo of the situation and your order number. Our helpful staff will try to respond within the hour.
How long should I expect Shipping to take?
All orders will only ship out Monday – Wednesday.  Our friendly staff members will ship out your normally by 2 pm. Each order will receive a notification and tracking number once the order goes out. Before contacting our staff we recommend that you check your email and spam filter encase you might have missed us. You can reach our staff at our email kozykratom@gmail.com. A member of our helpful staff would be more than happy to talk with you anytime.
"Our products are not for use by or sell to persons under the age of 21. We do not ship to the
following areas where kratom is banned: ALABAMA, ARKANSAS, INDIANA, RHODE ISLAND,
TENNESSEE, VERMONT, WISCONSIN. SARASOTA COUNTY, UNION COUNTY, MALHEUR COUNTY,
DENVER CO, SAN DIEGO CA, CITY OF OCEANSIDE CA, JERSEYVILLE IL,
ALTON IL, AND COLUMBUS MS.  Furthermore, Kratom is also banned in following countries
where shipment is not permitted: AUSTRALIA, BURMA, DENMARK, FINLAND, ISRAEL,
LITHUANIA, MALAYSIA, MYANMAR, POLAND, ROMANIA, SOUTH KOREA, SWEDEN,
THAILAND, UNITED KINGDOM, and VIETNAM"
Kratom Watchdog Android & IOS
Have you heard of the Kratom Watchdog app? Kratom Watchdog is a kratom social network built from the ground up by one of the founding member of the non-profit American Kratom Association (AKA). A booming social community with a focus on kratom advocacy. Kratom Watchdog is the oldest kratom social media platform online. With over 400 videos and over 200,000 photo's from our own kratom Nursery. And 7,000 members we have a very strong growers community that are always willing to help. Kratom Watchdog is available on Android, IOS, and at kratomwatchdog.com. We are a small self funded development studio. If you would like to donate to the development of the platform we would appreciate it. Thank you for your continued support.



3D Drone Mapping American Kratom Nursery's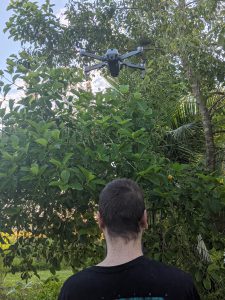 Taking to the sky! Utilizing drones, we are able to document our American kratom nursery's from a different angle.  These drones are able to 3D map our kratom nursery using a technology called LIDAR. Applying these 3D models into our Kratom Avatar Chat Kynto. Our goal is to map out our entire nursery and insert the nursery into the world for users to interact with these trees. Allowing them to take guided or self guided tours. The cool part, is that we can then translate that information into virtual reality (VR). Available on the PlayStation VR, Oculus Platforms, and Google Cardboard.
We will be opening up our tools and software to allow other nurseries and growers to map out their kratom nursery. Interested in having us out to document your nursery? Contact us here or contact us on the Kratom Watchdog app.
Legal Notice
"This product is NOT used to treat, cure. or mitigate any disease, illness, ailment, and/or
condition. Please see the FDA alert 54-15. We make no representations as to intended use or
suitability for use. This product contains chemicals known to the state of California to cause
cancer, birth defects, or other reproductive harm. Specifically, nickel, arsenic, and lead. For
more information please visit p65warnings.ca.gov"
"Our products are not for use by or sell to persons under the age of 18. We do not ship to the
following areas where kratom is banned: ALABAMA, ARKANSAS, INDIANA, RHODE ISLAND,
TENNESSEE, VERMONT, WISCONSIN. SARASOTA COUNTY, UNION COUNTY, MALHEUR
COUNTY, DENVER CO, SAN DIEGO CA, CITY OF OCEANSIDE CA, JERSEYVILLE IL,
ALTON IL, AND COLUMBUS MS. Furthermore, Kratom is also banned in following countries
where shipment is not permitted: AUSTRALIA, BURMA, DENMARK, FINLAND, ISRAEL,
LITHUANIA, MALAYSIA, MYANMAR, POLAND, ROMANIA, SOUTH KOREA, SWEDEN,
THAILAND, UNITED KINGDOM, and VIETNAM"
WAAVE information link
https://getwaave.ac-page.com/things-you-need-to-know-about-waave
| | |
| --- | --- |
| Vein Color | Green Vein, Pink Vein, Red Vein |
| Amount weight | 100g, 30g |